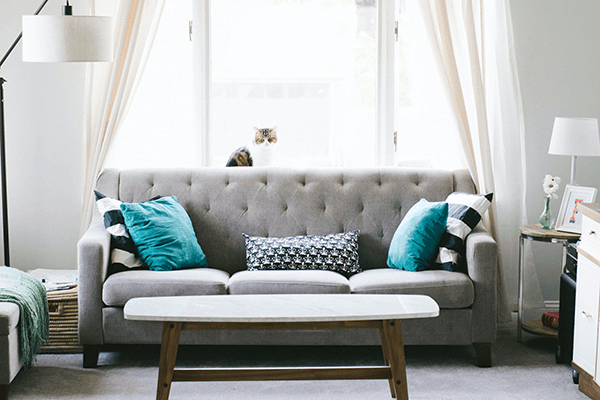 Maybe your new apartment comes without curtains? Perhaps it has curtains but they're not quite your style? Regardless, you're wondering how to hang curtains in an apartment.
There are a number of options for doing so. Curious as to the best of these options? Then read on because we're going to review them in detail below.

First of All: What Does Your Landlord Think?
The very first thing to do when hanging curtains in your apartment is to ask your landlord about their specifications. Are they all right with you putting up a permanent curtain rod? Take note that some landlords might not like the idea of your drilling holes in the wall, or even hammering in nails.
If your landlord doesn't mind, you have a variety of options for installing curtains. If your landlord is strict about the subject, your options are bound to be quite limited.
Keep this in mind while reading through the rest of this article.

Nail in Curtain Brackets
If your landlord has no qualms about nails or screws, you could quite simply attach brackets to the area above your window and then place a curtain rod on them. The key here is to ensure that the brackets are lined up straight. To do this, use a level.
Then, it's just as simple as either hammering some nails into the wall or drilling some screws into the wall. Generally speaking, you need only two nails or screws in order to do this.

Use Adhesive Magnets
If your curtain rod is made out of metal, you could set it up using adhesive magnets. This is as simple as sticking the magnets to the area above your window, and then sticking the metal curtain rod to the magnets.
You can find adhesive magnets online at a variety of retailers. They usually go for between $10 and $20. Make sure that your chosen magnets are strong enough to hold your curtain rod over time.

Consider Temporary Shades
Another option to consider when hanging curtains in your apartment is to use temporary shades. These are shades are considered temporary in that they don't require the drilling of holes or hammering of nails.
These shades use an adhesive. Therefore, all you have to do to set them up is peel off the adhesive cover and stick them to the top portion of the window bay.
You can then adjust the height of the shade by moving the attachments at the bottom. These come in a variety of styles, most of which are extremely easy to use.
Temporary shades often come in white but are available in a number of other colors as well. While they might not possess the aesthetic of top-end curtains, they're still quite pleasant to look at.
In some apartments, these might be your only option. This is because some apartment complexes forbid their tenants from setting up permanent curtains.

Apply Adhesive Hooks

Something else you could consider is to use adhesive hooks. These can be used for a number of purposes, like hanging clothes or towels. However, they could also be used for holding a curtain rod.
They're extremely easy to use. Just rip off the adhesive cover and attach the hook to the wall. Space two hooks out at the edges of the top of your window, and you should be able to set up a curtain rod.
Wondering where to find adhesive hooks? They should be available online and in big box stores. Command Hooks are perhaps the most popular.

Hang the Curtain from the Ceiling
If, for whatever reason, you're unable to hang the curtain from the area above the window, you might instead be able to hang the curtain from the ceiling. You can do this in a number of ways.
If you're allowed, you can use nails or screws to install curtain brackets. If you're not allowed to use nails or screws, you could instead use adhesive hooks or magnets or some other adhesive entity.
There are some benefits to hanging curtains this way, with the primary benefit being an aesthetic one. Ceiling curtains provide a great deal of aesthetic length to a room. As such, they help the room to look more dimensional.

Employ Double-Sided Tape
If you don't care much about the aesthetics of your curtains, or if you're only going to be using the apartment building for a very short time, you could make do with double-sided tape.
Use one side of the tape to attach it to the wall. Then, use the other side of the tape to hold up the curtain. Once the curtain has been attached, you won't be able to see the tape at all.
It might not be as reliable as other methods. However, it will, more or less, get the job done. And if the curtain falls down, just put up some new tape.

There Are Many Ways to Hang Curtains
There are many different ways to hang curtains. This is only a small selection of the total ways available to you. If one of these works for you, then great. If not, you're sure to be able to find a different way to make it happen.
Looking for an apartment in which to hang curtains? If so, look no further than Village at Juban Lakes, the top apartment complex in Denham Springs, Louisiana.
Check out our floor plans now!